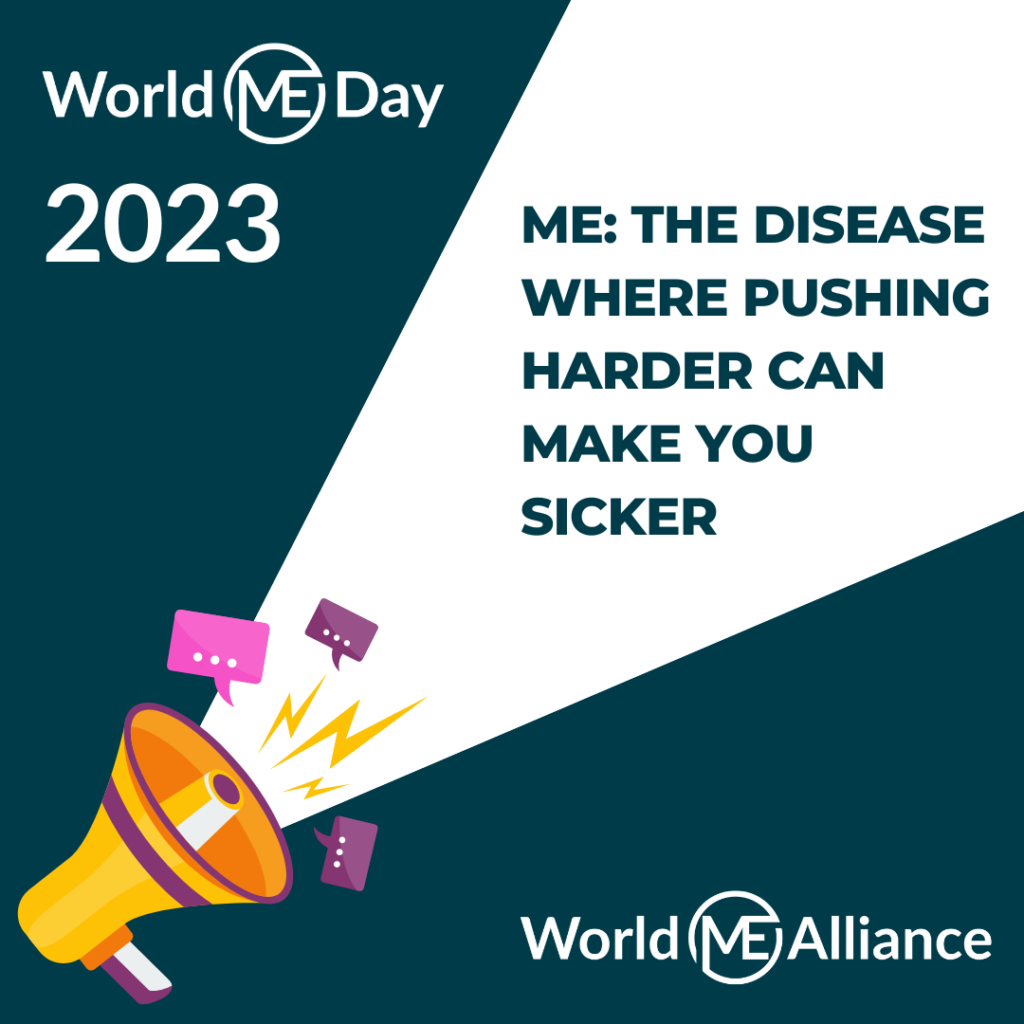 World ME Day raises awareness of devastating symptom impacting millions post-COVID
Twenty-two organizations from around the world unite to promote awareness of ME – the disease where pushing harder can make you sicker.
May 12, 2023 – In honor of World ME Day on May 12, 2023, ANZMES and the World ME Alliance are
proud to announce the launch of a global awareness campaign addressing the hallmark symptom of ME: post-exertional malaise (PEM) and using the tagline "ME: the disease where pushing harder can make you sicker."

It is estimated that between 17-30 million people live with ME worldwide. However since the COVID-19 pandemic hit, this figure is thought to have doubled. There are now 65 million people living with long COVID worldwide, and half of those meet the criteria for an ME diagnosis.

Myalgic encephalomyelitis (ME) is a disabling, chronic and complex disease. There is no diagnostic test, cure, nor universally effective treatments for ME, and patients often suffer for life.

The hallmark symptom of ME is post-exertional malaise (PEM) – a worsening of symptoms after
physical, mental, or emotional exertion that would not have caused a problem before the illness. For
some patients, sensory overload (light and sound) can induce PEM. These episodes are sometimes
referred to as "crashes," and may last days, weeks, or permanently.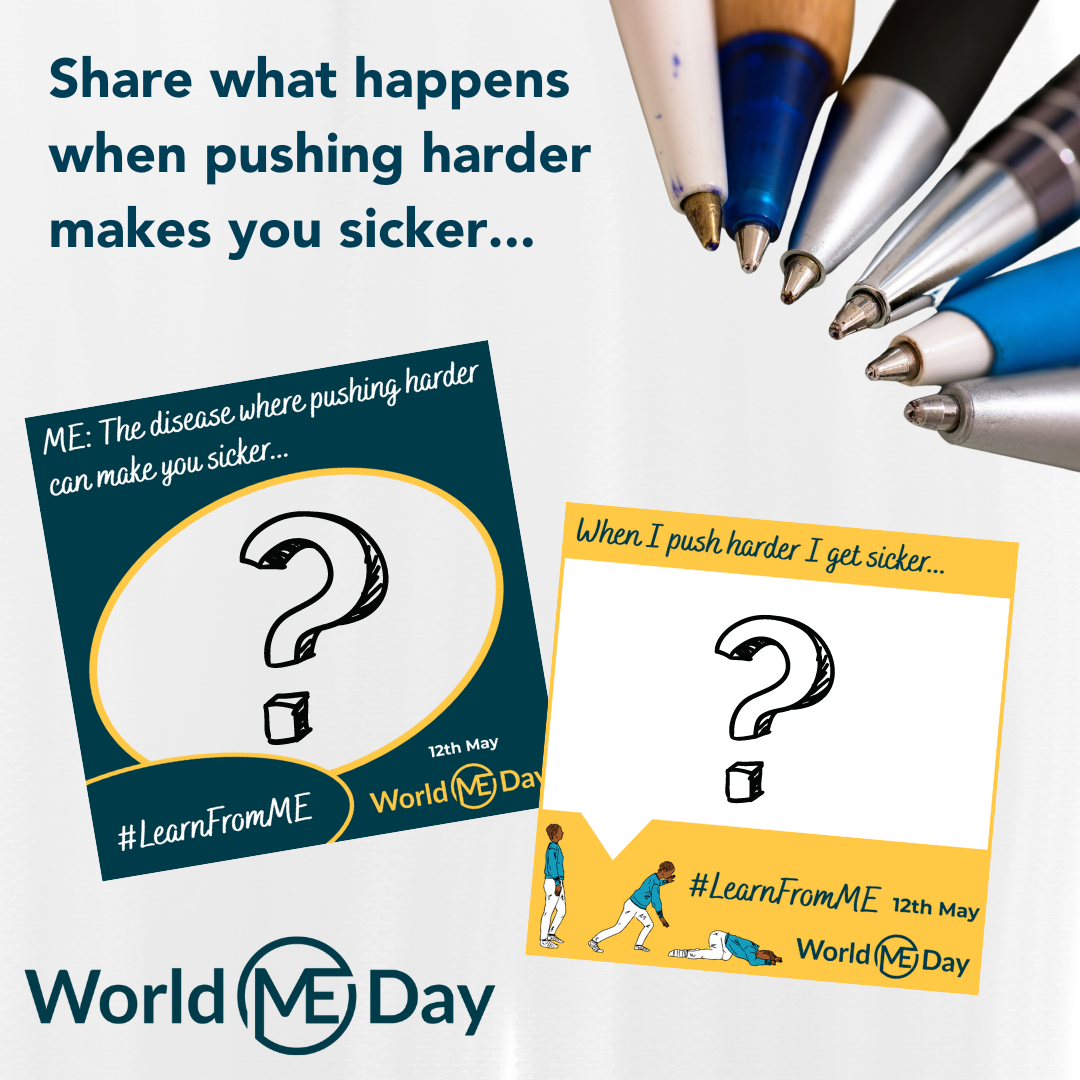 Kiwi amateur athlete, Aimee, recently diagnosed with ME/CFS, says, "I used to run competitively, now
simple activities like taking the rubbish out make me feel like I've done a marathon. It's hard for people to understand because I can feel okay and look okay but if I push myself today I can end up in bed for weeks."

For World ME Day this year, the World ME Alliance campaign aims to ensure the harmful effect of
pushing harder is the first thing that comes to mind when someone hears about ME.

World ME Alliance co-chair and Solve M.E. CEO Oved Amitay notes, "Post-exertional malaise is a
devastating symptom of both ME and long Covid that is far too often disregarded or incorrectly managed by health care providers. PEM is a varying symptom that is challenging to recognize, and doing so requires intense listening to the person experiencing it. It is vital for health care professionals to identify PEM, as its presence changes the management advice a patient should be given and indicates that a diagnosis of ME should be considered. To avoid prolonging and intensifying the suffering of millions, providers must listen to and believe those who experience PEM."

Patients from around the world are encouraged to share their PEM stories on social media and with local press, and to get involved with their national ME organizations. "If we listen to the lived experience of those with PEM, we can #LearnFromME," says Amitay.

New Zealand is a sporting nation that prides itself on staunch strength and many carry the mantra
"harden up" but for people with ME/CFS and long COVID this can be a harmful mindset because of PEM. ANZMES president, Fiona Charlton says "we want to share the knowledge around PEM to increase understanding, compassion, and create a positive thought space around pacing yourself for your own health.

"ME/CFS and long COVID can affect anyone, even athletes so it is important that we get the message across about PEM and how to manage it."

The national and regional ME organisations in Aotearoa join together this May 12 with a special event to raise awareness about PEM and the self-management technique known as pacing. "We have made a new series of resources including video interviews with leading health professionals and people with ME/CFS and long COVID discussing PEM and how to avoid it and recover. We would love to see Kiwis getting involved sharing their own experiences" says Charlton. The event also asks people with these conditions to generate posters and share them on social media
(https://worldmealliance.org/worldmeday/custom-poster/) and encourages health professionals to
download new resources from the website (www.anzmes.org.nz/worldmeday2023/).

ANZMES is proud to be leading this international effort in Aotearoa/New Zealand to battle the stigma
associated with ME and call for more research funding into this disease.

To find out more about ME or take #LearnFromME action to support the cause, visit www.worldmeday.org

About the World ME Alliance:
The World ME Alliance is composed of ME organizations from around the world. Its membership is made up of senior leads/representatives from national ME organizations, working together to achieve change for people with ME at a national and international level.

To learn more about the World ME Alliance, visit www.worldmealliance.org. Contact the World ME
Alliance via email and follow the Alliance on Facebook or Twitter.

To learn more about ANZMES, visit www.anzmes.org.nz. Contact ANZMES via email and follow on
Facebook.
To learn more about the participating Aotearoa/NZ ME/CFS organisations visit:
https://anzmes.org.nz/worldmeday2023/ or Facebook.
---